Credit Card Usage is widespread in Japan
Credit cards are the most popular non-cash payment method for purchases in Japan, where credit card transactions have more than doubled in the past 10 years, reaching approximately 73.4 trillion yen (about $673 billion) per year*1 in 2019, with about 2.8 cards owned by each Japanese adult citizen.*2
As the eyes of the world focus on Japan, where Tokyo is to host the 2020 Olympic and Paralympic Games, which have been postponed until 2021 due to the Covid-19 pandemic, the number of foreign tourists surpassed 30 million visitors per year in 2018 and increased more in 2019, and the amount of money spent by foreign nationals has proportionately increased as well.
Now then, let us take a look at the credit card usage situation among tourists visiting Japan.
*1 *2 Source: Japan Consumer Credit Association (JCA), "Credit Statistics of Japan (2019)"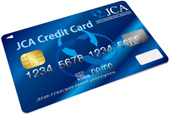 Credit Cards can be Used in a Variety of Locations
The number of places that accept credit cards in Japan has been increasing every year, and today cards can be used at a broad range of locations. For instance, credit cards are accepted at airport shops, hotels, department stores, shopping centers, home electronics mass retailers, supermarkets, restaurants, long-distance trains and busses, city taxis, highway service area shops, gas stations, large hospitals, and even convenience stores. Card acceptance is especially high in the Tokyo metropolitan area and in large cities and sightseeing spots, however, credit card acceptance is still not high for local train transportation, small-scale retail shops or stores located in outlying regional towns. Likewise, a substantial number of Buddhist temples and Shinto shrines do not accept cards to pay for admission.
If you make a purchase at a shop using your credit card, be sure to check the card brand logos shown at the storefront or near the cash register beforehand to see if your card is accepted or not. Some stores may not display the card logos even if credit cards are accepted, so it may be wise to check with the store staff as well.

Acceptance of IC cards and contactless cards
Almost all credit cards issued in japan are already IC-embedded cards, and most stores which accept credit cards are equipped with IC card compatible terminals.
However, since small amount of stores are still not equipped with such terminals, you may be asked for your signature at those stores.
Contactless e-money (IC prepaid card) payments are quite popular, but use of contactless credit cards is rather limited in japan.The standards of those 2types of contactless cards are different, and few stores support contactless credit cards.
Cash Withdrawal by Cards
Although one of the things that many foreign tourists visiting Japan considered inconvenient was that "there weren't enough ATMs that allow yen withdrawals or cash on credit" using their cards, the situation has changed. The Japan Post Bank and Seven Bank have deployed ATMs that support cards issued outside of Japan, in order to enhance convenience for foreign tourists. Seven Bank ATMs are especially noteworthy in that they can be found not only in the 7-Eleven convenience stores located throughout Japan, but also at airports, train stations, various business facilities and other nearby locations, and are generally operated 24/7, making them a reliable solution for visiting tourists.
More recently, many other major banks, such as MUFJ Bank, Mizuho Bank and Sumitomo Mitsui Banking Corporation(SMBC) and others have installed compatible ATMs as well.

Related Information
Using credit cards in Japan
Japan National Tourism Organization (JNTO) Website